Using the Ribbon
The Search main functional section, as well as the expansion plug-ins, is available in 2GIS in the form of a Ribbon. This allows you to quickly find the necessary commands grouped in logical blocks in tabs. Each tab is associated with specific functions (such as searching for objects).

To enlarge the Program's workspace, you can minimize the Ribbon using the following methods:
Right-click the Ribbon and select Minimize the Ribbon from the menu. To restore the Ribbon, deactivate the checkbox for this command.
Double-click the active tab name. To restore the Ribbon, double-click the tab.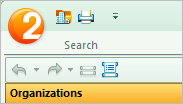 To use the minimized Ribbon commands, click the desired tab, then click the button for desired command, or select a tool.
If the entire Ribbon does not fit the screen, the groups of the active tab shrink horizontally, and only one icon is displayed.
Below you can find an example of the Travel directions group of the Search tab, with the minimized Ribbon where only one icon is visible.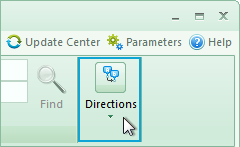 When you click the icon of the minimized Travel directions group, the full content of the group is displayed.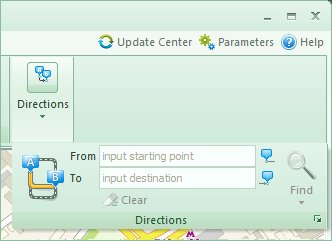 2GIS allows you to use the keyboard shortcuts for quick launching of frequent tasks. Keyboard shortcuts allow launching any command simply by pressing a few keys anywhere in the Program.

---
Other pages of this section: