Route card
When you search for public transport routes, the Transport directory displays the list of all plotted routes. To view detailed information on a particular route, single-click the route card to expand it.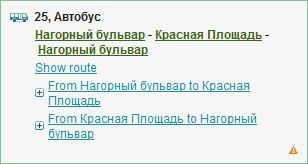 The card displays the route number, type of transport (bus, trolleybus, tram, fixed-route taxi), terminal stops, as well as the Show the route link, showing the selected route on the map at a scale suitable to see all stops on this route. The route card also contains the links to the lists of the roadside stations from terminal stops.
Click the name of the selected route to open the information card for the given station (see Information card — Roadside station in the Map section).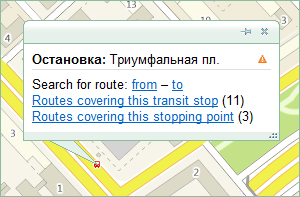 ---
Other pages of the section: