Travel options
To search for travel options, between the desired points on the map, the Transport directory shows the list of travel options for public transport or car.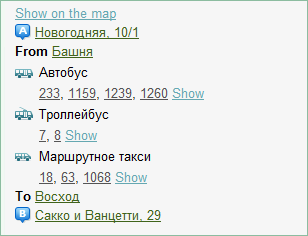 Links in the travel route card
Locate on the map. Display the entire travel route on the map.
Stop name or route number. Mark corresponding stops and public transport routes on the map.
Show (to the right of the route number). Display a section of the route on the map, which is included into the offered travel option.
Legend for the travel route card:
— buses;;
— trams;
— trolleys;
— fixed-route taxis; and
— subway.
Example. Travel option from the Baza Metrostroya station to the DK Yunost station: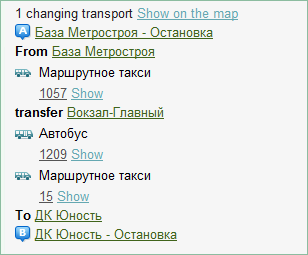 At the Baza Metrostroya station, you should take the bus

, route 1301, and go to the Ploschad Marksa subway station.
Then, transfer to another bus

1337, 1331, 1129, 1221, 1263, 122, 125, 1038, 1141, 1189, 1189v, or 1264 and go to the main Railway station.
Finally, take the bus

8e or 1209 to the terminal station DK Yunost.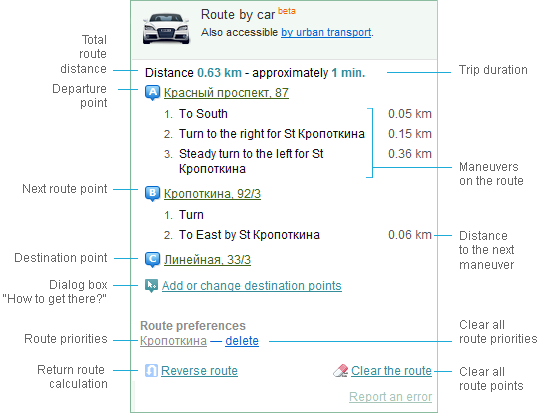 By clicking the points or maneuvers in the route card, you can proceed to these points or maneuvers on the map, and then open the appropriate information card.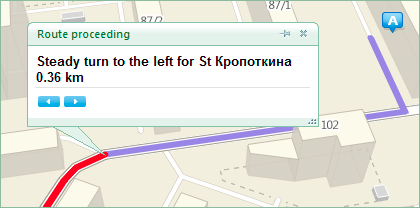 Left/right arrows at the bottom of the information card allow proceeding to the previous/next maneuvers on the routes respectively.
To specify additional travel parameters, open the Directions dialog window by clicking the Add or modify destinations link in the route card.
To plot a return route for the specified points, click the Return route link.
The Clear route link allows you to remove all points of this route from the map.
Copying information about the route. You can copy a card for the plotted route. To do this, use the context menu opened by right-clicking the route card.
---
Other pages of the section: