Information card
By clicking any object on the map, you can open an information card. The cards may vary depending on the type of the object selected: building, street, district, roadside stop, sight, points of interest.
Building
The information card of a building consists of two main tabs:
The Information tab displays the address, purpose, number of floors, as well as the name the object itself (if available). There is an additional link Show all organizations for this building in the directory.


The Organizations tab displays all organizations with offices residing in this building. If the selected organization has several branches, then the Show all organizations for a building in the directory feature allows you to view all the branches of this organization. This feature may also be useful when printing a list of organizations located in a building.


Street
The information card displays the name of the street. When you use the Show houses on the street feature, the Program chooses a scale suitable for the houses to be visible on the selected street. The color of the houses changes to yellow.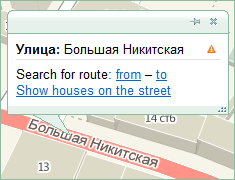 Clicking a street selects all its sites on the map.
District
To select a district, click inside an empty area on the map. The information card displays only the district name. The boundaries of the selected area are highlighted in red.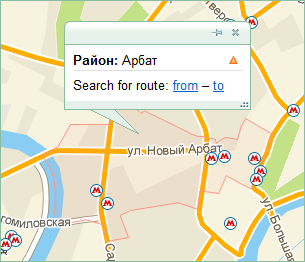 Roadside station (platform)
The information card contains the name of stops and links to public transportation routes passing this roadside stop, or all the roadside stops of this station (see section Searching for travel routes).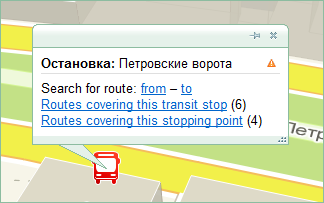 When choosing a particular roadside station, you can find out what kind of public transport passes through it. Select Routes of this roadside station. The Program displays the routes and types of transport vehicles that stop at the given platform.
To view all the routes for the selected station, click the Routes of this stop link. The directory shows all the transport that passes the roadside stations containing the given name i.e., a list of all routes for the selected station: buses, trams, trolleys, fixed-route taxis, subway.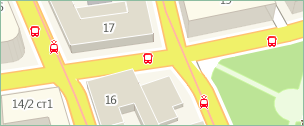 The example shows a stop that consists of five roadside stations. These stops all have the same name.
Working with information cards
Move and scale the information card for optimal display on the map.
You can open several information cards by clicking the Pin

icon. The pinned cards will remain open when you click another object.
---
Other pages of this section: